Phonics
At Stanton St Quintin we believe it is vital that children receive daily quality teaching of phonics in order to develop as early readers and writers.
We use the successful Sounds Write scheme; a quality first phonics programme, acknowledged by the Department of Education as meeting all its criteria for an effective phonics teaching approach. We sincerely believe in its effectiveness due to the fantastic outcomes seen since implementation of this approach at Stanton. Children enjoy their daily phonics sessions and are supported by Sounds Write trained and experienced staff to achieve their very best outcomes, supporting them as successful readers and writers.
An introduction to Sounds Write. Please note: content is not filmed at Stanton.
Children begin to learn phonics in line with the Sounds Write programme as soon as they start school in Reception. They begin by learning the Initial Code, learning the single sounds and understanding the way that the alphabet code works. Children will be taught to sound and blend to read and segment to spell. Initially, children will focus on simple CVC (consonant, vowel, consonant) words, progressing to more complex word structure; CVCC, CCVC, CCVCC, CCCVCC, before learning "two/three letters, one sound" (ch/sh/th/ng/ck/tch/ll/ff/ss/zz).
As children progress through Key Stage 1, they learn systematically how words are spelled in English. Throughout Year 1 and Year 2, children are taught the Extended Code of the Sounds Write Programme. This follows two approaches:
- Same sound, different spelling
For example; Unit 1 (ay/ai/ea/a-e) like in play/train/great/take
ay/ai/ea/a-e all make the same sound in these words, but they are spelt differently. We refer to these as the spellings of the sound. Please refer to the Phonics Definitions document below (coming soon).
- Same spelling, different sound
For example; Unit 3 (ea) like in great/clean
ea is spelt the same in both of these words but it makes a different sound. Same spelling (ea), different sound.
The Extended Code is made up of 49 units which children learnduring Year 1 and Year 2 and have the opportunity to revisit and secure during Year 3 should they need to do so.
This ability to express oneself in writing from the start of school gives children enormous confidence, which naturally feeds back into the other kinds of learning taking place within the school curriculum.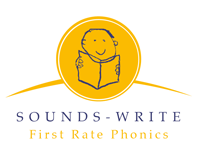 What can I do to help my child at home?
Accurate pronunciation of sounds is so important. When supporting your child to read and spell at home, it is vital that you are also correctly modelling the sounds to your child, to ensure consistency in learning.
Please watch this video to understand how sounds should be clearly and accurately articulated: https://m.youtube.com/watch?v=dVG6QoS_9iw&feature=youtu.be
Providing your child with an opportunity to practise and apply the phonics they have learnt holds enormous value. This is why it is so important to listen to your child read daily at home and spend time on any sounds that have been sent home to practise.
We truly believe that supporting your child as an early reader and writer is a shared responsibility between home and school.
Should you have any questions or require any support with phonics at home, please get in touch with your child's class teacher.